Meet the Team
Meet Eric Moss, Fitness Instructor, Personal Trainer, Team Captain, Head Coach, Owner
NJ Fitness Instructor, NJ Personal Trainer, RKC Certified Kettlebell Instructor, StrongFirst™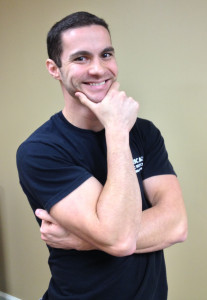 Personal trainer since 2003
Certified RKC Instructor

Certified StrongFirst™ Kettlebell Instructor (SFG)
Certified StrongFirst™ Specialist in Body-weight Strength (SFB)
Certified in the Functional Movement Screen by Gray Cook (FMS)
Subject Matter Expert/Consultant for Department of Exercise Science and Physical Education at Montclair State University and the National Personal Training Institute in Pittsburgh PA
Selected by StrongFirst™ to teach at personal training certification courses both nationally and internationally
Motivational Speaker/Professional Old-time Performing Strongman also known as "The Last Son of Krypton" (the last student to be mentored by "NJ's Superman" the late Greg Matonick)
Meet Eric Moss

Starting as an AFAA certified trainer in 2003, Eric Moss is not your average trainer.  An honest man in a dishonest industry he has become the "go to trainer" for people that have tried it all and failed.  They go to him because of his honest, unorthodox "I never compromise results for marketability" approach and his high level of knowledge in the realm of strength, nutrition, physical fitness and body transformation.  One personal trainer described him as being a "living encyclopedia of fitness".
When he first started as a personal trainer in the fitness industry he worked in an average every day health club that sported a power-lifting team that held several records.  When the gym was bought by another gym owner, changes happened that changed it into a gym that wanted what was popular rather then what was effective and in doing so watered it down made it mediocre and actually prevented people from getting the results they wanted.  Eric Moss left not long after because it felt "wrong" and started running fitness boot camps bouncing around different locations in New Jersey before settling and starting a group personal training studio in Parsippany New Jersey.

Certified as an RKC instructor (now Strongfirst instructor) in 2009 by Pavel Tsatsouline, an ex Spetsnaz Spec Ops physical training instructor. The RKC instructor course is the internationally recognized gold standard in physical fitness training with Russian Kettlebells and has a high failure rate because of it's grueling nature and because they don't let anyone through if they don't think they demonstrate high quality technique, teaching skills and high quality of character. The current evolution of the original RKC is now called StrongFirst and honors the original curriculum.
Eric Moss is constantly and consistently sorting through what works and what doesn't and is constantly bettering his own personal system of results producing personal training.  His clients gain strength very quickly and he works with many fat loss "hard cases".

Eric Moss also takes part in teaching at fitness instructor and personal trainer certification workshops and assists in teaching upcoming instructors and personal trainers how to better serve their clients. Here is how some of his students turned personal trainers described his teaching style.
He had a very calm presence which really helped me to relax and concentrate on what I was doing. Thanks for your expertise Eric!!  Sheena Potts RKC Instructor

"Eric knows his stuff. Going into the RKC in Philly I felt pretty confident in my skills. Once there I found out I had some minor tweaks to correct to be up to RKC standards. Eric was right on with his coaching. He helped tighten up my swing and TGU. He answered all my questions. He represents the RKC and what the organization is all about. Thank you for all your help Eric." Jose Ramos Totowa NJ

Besides your great experience and tremendous attention to improve my technique, you are a calm, reliable person, and very in tune with your students.  Andressa Costa Professional model / RKC instructor

His attention to detail was incredible and I felt a tremendous improvement in my technique from his coaching. He did an awesome job of taking the time to work with me and my team members and made sure everyone was improving and comprehending all that was being taught. Thanks Eric!  Ryan Jankowitz RKC instructor
With his semi private and personal training clients he focuses on both giving them optimal, safe and effective training using his unique methods that are a successful mix of cutting edge training theory as well as the nearly forgotten wisdom of ancient strength methods, and having them laugh to make strength and fitness an enjoyable experience and the StrongFirst™ system (the current evolution of the RKC by Pavel system) fits in perfectly.  He envisions it being like a party where people get strong, fit, lean and healthy.

Eric Moss is available for:
Private Personal Training
Semi Private/Small Group Personal Training
Specialty Workshops for Police, Fire Fighters and Military
Subject Matter Expertise for select fitness facilities and emergency personnel.
Speaking to local business' and groups about health, fitness and goal achievement.
Send your strength, fitness and fat loss questions to Eric@EricMossFitness.com or call 973 476 5328
The constant quest for self improvement led him to Oldtime Professional Performing Strongman training where he bends horse shoes and spikes and rolls up frying pans with this hands. He used the lessons he learned and his physical strength to found his Re-bar to Ribbons charity. Re-bar to Ribbons is a charity he founded where he uses his strength to bend re-bar (steel bars meant for reinforcing concrete) into ribbon shapes and painting them pink for breast cancer patients to demonstrate that the human spirit is stronger then steel and stronger then cancer. He also does it to motivate his clients and to show them that anything and everything is possible if you are willing to both work hard and smart for it.
---
Meet Jill "The Jill Sergeant", certified Personal Trainer, Assistant, 2nd in command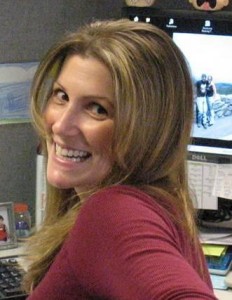 Jill (the Jill Sergeant) moonlighted as a personal trainer in Parsippany New Jersey at LA Fitness and had hired Eric Moss to help her look her best for her wedding. In that time her progress was rapid as she was a coach-able, hard working student and was open minded enough to recognize that there is something new, different and amazing to his methods of training. Absorbing everything he taught her like a sponge and knowing him and his methods well enough to be able to figure out what he's thinking just from a funny look on his face, she was recognized as being a great trainer with a talent for teaching coupled with a personality that makes training fun and she was asked to join the Eric Moss Fitness team.
I created the position specifically for her because I knew one thing…I wanted her on my team. I don't just take any personal trainer off the street. Eric Moss
In addition to the things she's learned from Eric Moss she brings her own unique skill set to the table.
Attended and passed W.I.T.S. Personal Trainer Certification Program in December, 2008
11/09: Fibromyalgia Specialist 6 credits
08/10: Lower Body Ball Specialist 6 credits
02/12: Posture Analysis Specialist 6 credits
10/12: Super Abdominals: Essential Rules of Excellence 4 credits
The unique dynamic that Eric and the "Jill Sergeant" have will simultaneously keep you entertained while providing you with high quality instruction, guidance, attention and accountability. The process will actually be fun.
Jill is available for one on one personal training. Contact Eric Moss at 973 476 5328
---
Meet Serena, Health and Integrative Nutrition Coach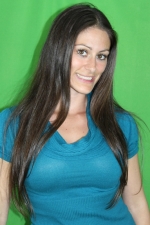 Serena struggled with weight gain, over eating, and one dietary failure after another her whole life. As she reached adulthood she developed abdominal pains which doctors could not find the cause of. It turns out that what she had was associated with diseases such as inflammatory bowel disease, swelling of the blood vessels and intestines, bone infection, and even cancer. With modern medicine having failed her, she used nutrition and not only cured herself without drugs but transformed her body in the process. Having researched several diets such as vegan, raw, paleo, vegetarian, raw paleo, macrobiotics, and more, Serena came to the conclusion that all forms of healthy lifestyles could be incorporated to certain degrees to achieve amazing results and that no one diet is a one size fits all solution.
After researching on her own Serena received her official training from the Institute for Integrative Nutrition, where she was trained in more than one hundred dietary theories and studied a variety of practical lifestyle coaching methods. Drawing on this knowledge, she will help you create a completely personalized "roadmap to health" that suits your unique body, lifestyle, preferences, and your goals.
"I reached out to her to meet her in person. Having looked her in the eye to find out what she was really about to see if she was someone I wanted to work, with I found her to not only be a person of knowledge but a person who has their heart in the right spot…which is making people healthy, strong and lean. I was so impressed by what she had done with herself as well as having heard her speak on nutrition I asked her to join my team to take care of the nutritional end of things to improve your results, your health and your body. When you combine our approach to strength and fitness training, with her approach to nutrition and health your body has no choice but to become healthy, strong, fit and lean." Eric Moss